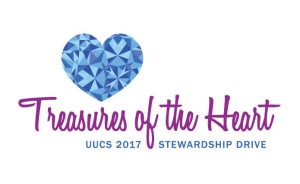 When our hearts call us to be part of UUCS, we discover treasures beyond our expectations–sermons that challenge and excite, spirituality that stirs and comforts, friends that care and share our burdens.  Our hearts call us to treasure this congregation and support it by contributing toward its financial health. UUCS's primary source of funding for everything from staff salaries to the electric bill, is our annual Stewardship Drive.
Here is a link to our 2017 Stewardship Presentation from our March 3rd kickoff event. At the bottom of this page, please see our 2017 Stewardship Video, with Rev. Anya and Intern John.
Giving Guidelines
All gifts, no matter the size, are important and appreciated. Consider your commitment to UUCS, your income, and your needs, and then give as generously as you can. A good starting point is 2-5% of net income.
Try this calculator with your income and different percentages to see what a suggested pledge might be.