We have Faith in our Future!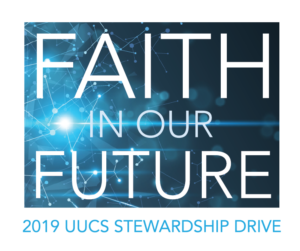 2019 Stewardship Campaign 
Thank you so much for considering a pledge to UUCS. Almost 80% of our revenue comes from members' and friends' pledges. This year in particular, your pledge is of heightened importance, as we complete our search for our next settled Minister. There are three main priorities for the budget and pledge drive this year: 
Calling and offering our new full-time minister a fair salary.

 

Provide ongoing excellent programming and staffing in all areas of our ministry 

 

Continuing to provide a 24/7 spiritually nurturing facility for services and other program activities.

 
To achieve those goals, we need to hit a pledge drive total of $227,000. This is an increase from our 2018 amount but remember two things. Last year we held several meetings to discuss the commitment needed to call a full time minister; overwhelmingly, you said a full time minister was very important and you would increase your pledges to that end.  
The time is now to have Faith in our Future! We need every household pledging, and every household making a serious effort to see how much they can stretch to reach our goals.   
Think that your pledge or increase is too small to make a difference??  Think again!!  If each household took an extra $5 each week, put it aside, and increased their pledge by that amount… that is $25,000 worth of additional pledge money.  If every household was able to do that, we would easily hit our target. 
Take a look at our Stewardship brochure, consider your commitment to UUCS, your income, your needs, and then give as generously as you can. 
Attend a stewardship event and submit your pledge there, pick up your pledge form on a Sunday morning from a Stewardship chair (Bonnie or Dorine), or finally, return the pledge form you will receive in the mail and turn it in to a member of the stewardship team 
Bonnie Lepoff, Dorine DiConti, Paul Roche 
2019 Stewardship Drive Team