We envision UUCS as…
A Faith Community known throughout Loudoun County, Virginia and beyond as an inclusive and enduring refuge for diversity in all its forms.
A flagship congregation, being the change we wish to see in the world, nurturing all souls for courageous and transformative ministry.
An evolving community breaking barriers to serve an increasing population within and beyond our walls.
Mission
Seek, Love, and Serve Boldly
Covenant
This congregation is dedicated to the proposition that behind all our differences and beneath all our diversities, there is a unity that binds us together and makes us one in spite of time and death and the space between the stars.   ~  David Baumbaugh
Congregational History
The congregation was founded as the Northern Virginia Unitarian Universalist Fellowship (NVUUF) in 1994 by a group consisting mainly of choir members who left the Unitarian Universalist Church in Reston, Virginia (UUCR). After discussions with the then District Consultant, Pat Carol, it was decided to locate the new fellowship in Sterling, to take advantage of the very favorable demographics of the area and its lack of a UU presence.
In December 1994, two Board members attended new congregation training at the UUA in Boston, during which they discovered that NVUUF was headed in the wrong direction. They prepared an analysis of the problems of the fellowship and their prescription for solving them. By far, the most controversial of the proposed solutions was the recommendation that the music program be relegated to a lesser role in the church. The Board agreed, and on January 8, 1995, the scheduled service was suspended and the Board read a statement seeking the congregation's support in asking for the resignation of the Choir Director.
The congregation responded by voting to suspend the position until such time as the Board felt the condition of the church warranted the reinstatement of the position. The results were dramatic: five of the 27 members resigned immediately, but one visitor joined that day and eight others joined the following month. In all, 16 new members joined between January and May of the same year to bring the membership to 38, and UUCS was born!
It then became clear that the Choir Director had been the problem at UUCR as well. The Board there chose not to involve its entire congregation in the resolution of the conflict; it believed in good faith that it was the best way to avoid causing a lot of pain and a possible split in the Church. Had the choir known that at the time, it would not have left. When the NVUUF Board shared this discovery with UUCR and asked for a dialog, the Reston Board responded immediately and generously by organizing an elaborate reconciliation dinner for the entire congregation of the new church! Both sides recognized that a Unitarian Universalist presence was sorely needed in Loudoun county and agreed to work together to ensure the vitality of the new church. We have enjoyed a warm and collaborative relationship with our mother church ever since.
While there have been many milestones in the history of our church, the first most important date of that history was October 22, 1994, when the UUA Board of Trustees informed us that it had voted to receive our Fellowship (NVUUF) into the Unitarian Universalist Association. We had only 27 members at the time! We then determined that to call ourselves a fellowship may give the impression of an inward looking community, and voted to change the name of our congregation to Unitarian Universalists of Sterling.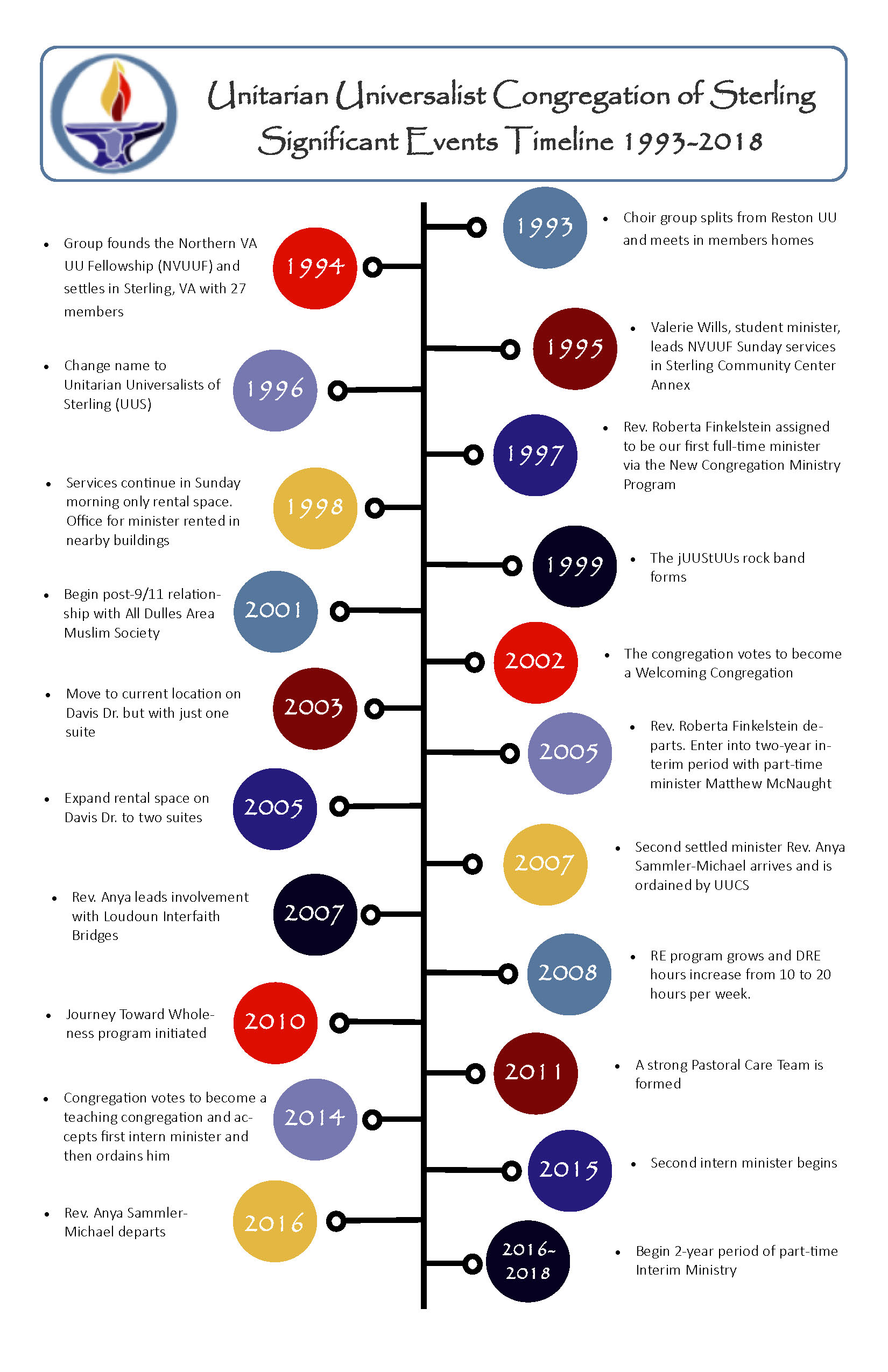 Another important event was when the UUA admitted our congregation into the New Congregation Ministry Program and, in August 1997, assigned Rev. Roberta Finkelstein to our church as our first full-time minister. We had jumped from a part-time student minister to a fulltime ordained minister without any transition. It was a vote of confidence that gave us new energy and hope.
In May 2002, the congregation voted to become a Welcoming Congregation. This was important for us because we believed it was the right thing to do. It was also important because the county in which the church is located was socially conservative and intolerant of LGBTs.
Another important event occurred when we moved into our present facility in the summer of 2003. At the Community Center Annex, our previous location, we could use the worship space and RE rooms on Sundays only and had to rent office and meeting rooms in different locations. At our new address, we rent the space 24/7, and all the rooms are in one location. The change has been an improvement in all respects.
UUCS encountered a bump in the road when Rev Roberta Finkelstein departed in 2004 and we went into a two-year interim period when we lost momentum and some members. During this time however, leadership roles strengthened and new leaders came forward to help on the ministerial search committee.
In 2006, the arrival of our second settled and full-time minister, the Rev Anya Sammler-Michael, was a significant milestone in our church history. Membership again grew and UUCS became a recognized congregation in the larger community due to Rev Anya's participation in Loudoun Interfaith Bridges. Several members of the congregation became active participants in Bridges and enhanced our participation in social justice issues in Loudoun County. Our minister and our congregation formed strong bonds of friendship and cooperation with those of other faiths as well as those of local government leaders and social service agencies. UUCS is most proud of the candlelight vigil and public procession we held immediately after the shooting at the Pulse Nightclub in Florida. Leaders from a dozen houses of faith spoke and prayed with us and hundreds from their congregations joined members of UUCS as we prayed, sang, and marched onto the sidewalks and down the streets outside of our building.
Early in Rev Anya's tenure with UUCS we hired a part-time Director of Religious Education, Linda Weaver, and our ability to increase her hours from 10 to 20 per week helped us turn a corner in our RE Program. Another milestone in our history was the creation of a strong Pastoral Care Team after the death of one of our dear members. That team is still a strong ministry and supports many through illness and loss.
A last, but not insignificant, milestone in the history of UUCS is when we decided to become a teaching congregation and accepted our first intern minister in 2014. We actually ordained that intern, Rev Andrew Mertz, and were ready to accept a second intern, John Monroe, for a two-year part-time internship soon thereafter. Our experience with interns deepened our understanding of ministry and helped us envision a trajectory from pastoral to program sized church.
Where We Meet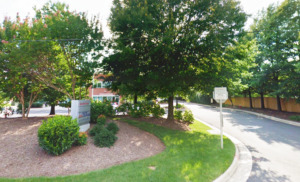 The Unitarian Universalist Congregation of Sterling meets in rented space in a business-park building directly facing a busy street. We have our name on a lighted sign near the curb as well as signage on the building above the entrance. On Sunday mornings we also put out a sandwich-board sign that has our name and our service time.
Our 6,800 square feet of space serve us well. We have a lovely sanctuary that can comfortably seat 125 people. We have five classrooms for children and youth plus a bright nursery for our babies up to age 3. We have a large office for our minister that includes a large desk, a storage cabinet, a sofa and five chairs that facilitate intimate conversations and small group meetings.
At the main entrance we have the bright and inviting Forrest Church Fellowship Hall where coffee hour is held on Sunday mornings.
There is an upstairs mezzanine area with a conference table that can seat ten. This is where our Board meets and other groups convene as needed. That space is also where our administrative assistant has her desk, computer, printer and storage space. It is also the workspace of the Director of Religious Education.
There is a kitchen area that has a fridge, a sink, a dishwasher, a microwave, and storage cabinets. There are four bathrooms and three large storage closets.
Our Facility
How We Worship
Our Sunday morning worship service is the primary event on our church calendar.
Planning typically starts well in advance of the service, when the Minister and the Worship Associates meet quarterly to discuss who will be the Board, what Sundays need coverage (minister's day off), what the themes of the months are and what holidays or special occasions need to be recognized.  The worship calendar is used by the Minister, Board, Music Director and Administrator to streamline planning and ensure full coverage of all elements of the service and the month's services.
As we plan and conduct worship, we look forward to a sermon that may challenge us intellectually, stir our emotions, touch our humanity, or lighten our spirits. We also worship by singing hymns, sharing silence, voicing personal joys and sorrows, sharing the pulpit, and occasionally participating in a polylog. A "Time for All Ages" is included in each worship service and inter-generational services are held monthly.
Prior to the service, Worship Associates and volunteer prepare the sanctuary for the service by decorating the dais and alter, arranging chairs and staging as needed, ensuring accommodations for disabled  congregants, distributing hymnals to seats, and arranging other needed items. Materials for the "Time for all Ages "and the "Wonder Box" are also provided by the Worship Associates. When scheduled, the choir, band, and/or song leader will rehearse songs prior to the service. The Sound Master will set up microphones and ensure proper operation.
Just prior to the service, greeters welcome congregants, including new visitors, who are given a name tag and introduced, as appropriate, to the RE Director and Minister.  Ushers distribute the Orders of Service to the congregants as they enter. At about 15 minutes prior to the service, the key participants (Minister, Worship Associates, Accompanist, Song Leader/Choir Director, and Sound Master) will gather to review roles and responsibilities and the flow of the service. But more importantly, this gathering centers the participants in the holy work of delivering worship.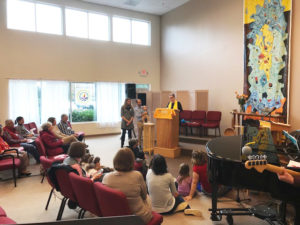 The readings, hymns, themes, and ideas in our worship services reflect the many sources of wisdom that we honor as Unitarian Universalists: traditional biblical sources, wisdom from the world's religions, the writings of poets, philosophers and social scientists, and our own life experiences. Our hymnals, published by the Unitarian Universalist Association, are "Singing the Living Tradition" and "Singing the Journey".
Our previous settled Minister, Rev. Anya Sammler-Michael, was in the pulpit three times a month.  For the months with five Sundays, her participation in the fifth Sunday was previously agreed by her and the Worship Associates. Our current interim Minister (half-time), Rev. Alexa Fraser, is in the pulpit two Sundays per month. Most often, our services are conducted in the following chronological format: gathering music, chalice lighting and reading, "Time for All Ages," sorrows and joys, prayer/meditation, reading(s), sermon, and closing words. Our sermons cover diverse topics reflecting the unique contributions of our Ministers, guest speakers and congregational leaders. We often touch on our UU history and tradition, contemporary social issues, other religions, and humanity's foibles, divisions and triumphs. The common themes among the array of worship services are inspiring our personal and communal spiritual growth and enhancing the unique fellowship that derives from our diversity. (Past sermons are available on the UUCS website in the Sermon Archive and via podcast.)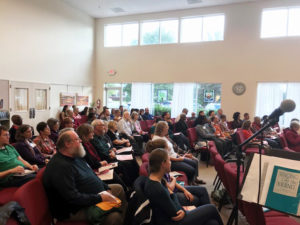 We welcome guest speakers who may be ordained Ministers or proponents of a special cause or members of our own congregation. Our Worship Associates are responsible for organizing services when the Minister is not in the pulpit. They also help establish the philosophy, priorities, and plans for our worship services. Our services are filled with music from our inspired and talented UUCS musicians and singers.
We begin our services by lighting the chalice. We make time to share spoken personal joys and sorrows, and during our offertory, people have an opportunity to light silent candles of hope, memory, and gratitude. A third of the money collected in each week's offering goes to support a community organization, such as Loudoun Abused Women's Shelter or the food bank (this year we chose to focus on a single organization: Loudoun Backpack Coalition), and two-thirds provides support for the church. (Here are links to samples of our Order of Service: 10/7/18, 10/7/18 Kids, 12/2/18, 12/30/18.)
We close every service by joining hands and saying together the following words by Rev. David Bumbaugh.
"This congregation is dedicated to the proposition that behind all our differences and beneath all our diversities, there is a unity that binds us together and makes us one, in spite of time and death and the space between the stars. We pause now in silent witness that that unity.
Following the service, we gather in fellowship to enjoy refreshments, provided by congregants, and talk about the sermon and our faith, and learn more about the interests of fellow congregants. Shortly thereafter, scheduled meetings, including Inquirers or New to UU classes, RE planning and small group ministries, are held throughout the facilities. Our minister leads the Inquirers and New to UU classes and may participate in the other meetings.
Children's Worship
Our worship experience includes people of all ages. We hold a monthly intergenerational service, particularly around special religious events such as the annual Water Ceremony, Animal Blessing, and Christmas Eve. These services are designed to welcome all ages in worship with a service that encourages participation and engagement of our young congregants.  We reserve a "Time for all Ages" at the beginning of each service for the children to come to the front and participate in a story or skit related to the day's theme.  Afterwards, we sing the children out to their RE classes with the song "As You Go."
Staff Member Job Descriptions
The worship activities described above and other activities described elsewhere in this packet are supported by a set of dedicated staff members who will be led by the eventual settled minister.  The job descriptions for the Music Director, Coordinator of Religious Exploration, and Office Administrator are provided in the subsections below.  The job description for the minister is contained within the draft ministerial agreement in the "For the Minister" section of this packet.
Music Director
Responsibilities
Direct, accompany, and grow a small adult choir 1 practice a week, 2 Sundays a month, 10 months a year
Accompany Hymns and play special pieces for 3 Sunday Services a month, 10 Months a year
Dynamically lead congregational singing 2 Sundays a month, 10 months a year
Coordinate with the Worship Leader, so the worship team is equipped to utilize the power of diverse music to convey a message
Communicate with the Minister and Music Committee to set the music calendar for the worship year
Qualifications Desired
Purposeful and powerful direction of the choir
Understanding of the power of music – emotional and/or spiritual and how to use it in worship
Ability to appreciate and use music from a diversity of genres
Capacity for leading congregation in singing, as well as choir – dynamic presence
Interest in growing the choir and in time, the music program
Ability to work well on a team – wise in boundary setting and appreciation of collaboration
Understands the need to organize to succeed and lead
Understanding and interest in supporting the worship "flow" by improving or adapting (e.g. playing traveling music between worship elements, playing under spoken words, creatively using key modulation, etc.)
Coordinator of Religious Exploration
Responsibilities
The RE Coordinator will be responsible for planning and organizing the children's Religious Exploration (RE) program for Pre-K through High School Youth Group.
Plan and assess Unitarian Universalist religious curriculum annually with the support of RE Council.
Attend and oversee RE program two Sundays a month.
Work with the Minister and Worship Associates on planning and implementing intergenerational services one Sunday a month (one of the two Sundays).
Recruit, train and supervise teachers, child care providers, and helpers for RE classes and special events in conjunction with RE Council.
Communicate with parents and families on a regular basis about upcoming events.
Communicate regularly with Minister and RE Council.
Attend meetings with RE Council and Minister when necessary (flexibility in some meeting times and modes, i.e. Zoom)
Obtain, inventory and organize supplies for RE program or delegate as appropriate.
Create and update records with help of office administrator.
Qualifications Desired:
Enthusiasm and experience working with children, comfortable with diverse learning styles and a passion for helping children explore their spiritual selves.
Familiarity and support of Unitarian Universalism values, or a willingness to learn.
Great communication skills.
Ability to prioritize when competing demands are present.
General computer skills including email, word processing, spreadsheets, and other electronic forms of collecting and distributing information.
Administrator
Responsibilities
Communications: Provide communications support to the church:
Check voice mail and church email accounts 3 days a week, forwarding and responding as required.
Sort, process and send mail weekly.
While in the office, field calls and answer questions.
Administration: Provide administrative support to the Minister, Director of Religious Exploration (DRE), committees, and the Board of Trustees:
Maintain church files.
Maintain Religious Exploration (RE) registration files and provide documents for adult and children's RE classes (yearly and as needed).
Compile and copy the weekly order of service.
Assist Communications Team by compiling the "Illuminate" e-news, and the printed Weekly News, and printing the "Weekly News" and quarterly Newsletter.
Maintain the website calendar by scheduling events for the congregation and rentals for subtenants and one time renters.
Maintain the Sign-up table by preparing small posters and sign-up sheets for upcoming events and opportunities.
Maintain the bulletin boards by printing and posting new material and removing outdated or improper material.
Compile the annual report, and annual directory.
Prepare the committee and effort brochures annually.
Maintain the small library.
Provide administrative support to Stewardship Committee during annual canvass, and the auction team, for the annual auction.
Work with our Finance Team to send our Justice Allocation recipients our monthly donations.
Make copies, and complete other small administrative, office, and facility tasks (as needed).
Database: Assist the Membership Committee to maintain a database of Members and Friends:
Enter/update data provided by the Membership Committee
Work with the Membership and Finance Teams to scrub the Membership roles annually.
Meetings
Attend monthly hour long staff meeting with minister(s), DRE, and Board president.
Maintain office hours that overlap (at least in part) with the minister and DRE.
Office and Facilities Supplies
Maintain inventory and purchase supplies as needed.
Facilities
Alert Minister and Board President (and Subtenant liaison as appropriate) to problems with facility as needed.
Perform simple facilities maintenance tasks.
Faces of UUCS