Vision Statement to come
Mission Covenant Statement to come
Congregational History to come
Where We Meet
The Unitarian Universalist Congregation of Sterling meets in rented space in a business-park building directly facing a busy street. We have our name on a lighted sign near the curb as well as signage on the building above the entrance. On Sunday mornings we also put out a sandwich-board sign that has our name and our service time.
Our 6,800 square feet of space serve us well. We have a lovely sanctuary that can comfortably seat 125 people. We have five classrooms for children and youth plus a bright nursery for our babies up to age 3. We have a large office for our minister that includes a large desk, a storage cabinet, a sofa and five chairs that facilitate intimate conversations and small group meetings.
At the main entrance we have the bright and inviting Forrest Church Fellowship Hall where coffee hour is held on Sunday mornings.
There is an upstairs mezzanine area with a conference table that can seat ten. This is where our Board meets and other groups convene as needed. That space is also where our administrative assistant has her desk, computer, printer and storage space. It is also the workspace of the Director of Religious Education.
There is a kitchen area that has a fridge, a sink, a dishwasher, a microwave, and storage cabinets. There are four bathrooms and three large storage closets.
Our Facility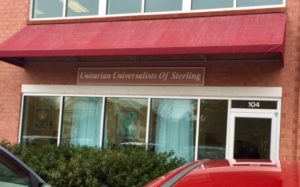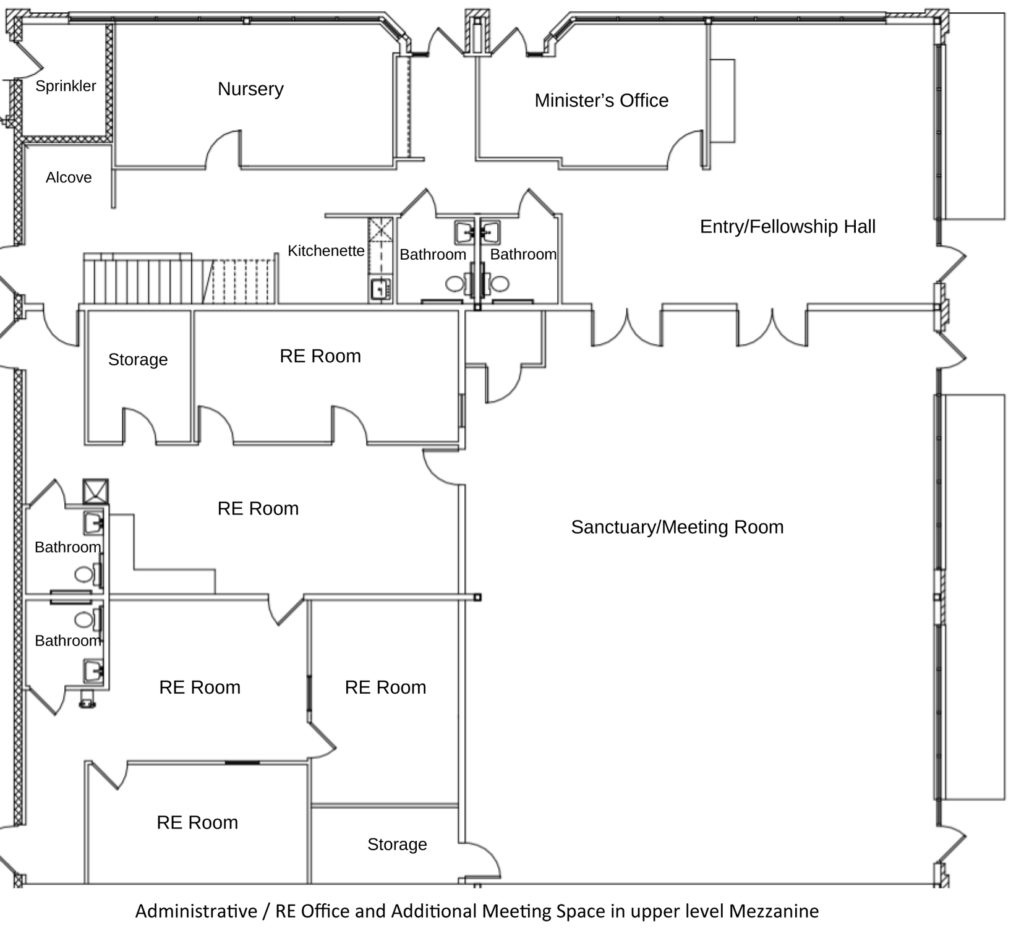 How We Worship
Our Sunday morning worship service is the primary event on our church calendar.
Planning typically starts well in advance of the service, when the Minister and the Worship Associates meet quarterly to discuss who will be the Board, what Sundays need coverage (minister's day off), what the themes of the months are and what holidays or special occasions need to be recognized.  The worship calendar is used by the Minister, Board, Music Director and Administrator to streamline planning and ensure full coverage of all elements of the service and the month's services.
As we plan and conduct worship, we look forward to a sermon that may challenge us intellectually, stir our emotions, touch our humanity, or lighten our spirits. We also worship by singing hymns, sharing silence, voicing personal joys and sorrows, sharing the pulpit, and occasionally participating in a polylog. A "Time for All Ages" is included in each worship service and inter-generational services are held monthly.
Prior to the service, Worship Associates and volunteer prepare the sanctuary for the service by decorating the dais and alter, arranging chairs and staging as needed, ensuring accommodations for disabled  congregants, distributing hymnals to seats, and arranging other needed items. Materials for the "Time for all Ages "and the "Wonder Box" are also provided by the Worship Associates. When scheduled, the choir, band, and/or song leader will rehearse songs prior to the service. The Sound Master will set up microphones and ensure proper operation.
Just prior to the service, greeters welcome congregants, including new visitors, who are given a name tag and introduced, as appropriate, to the RE Director and Minister.  Ushers distribute the Orders of Service to the congregants as they enter. At about 15 minutes prior to the service, the key participants (Minister, Worship Associates, Accompanist, Song Leader/Choir Director, and Sound Master) will gather to review roles and responsibilities and the flow of the service. But more importantly, this gathering centers the participants in the holy work of delivering worship.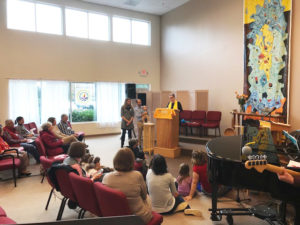 The readings, hymns, themes, and ideas in our worship services reflect the many sources of wisdom that we honor as Unitarian Universalists: traditional biblical sources, wisdom from the world's religions, the writings of poets, philosophers and social scientists, and our own life experiences. Our hymnals, published by the Unitarian Universalist Association, are "Singing the Living Tradition" and "Singing the Journey".
Our previous settled Minister, Rev. Anya Sammler-Michael, was in the pulpit three times a month.  For the months with five Sundays, her participation in the fifth Sunday was previously agreed by her and the Worship Associates. Our current interim Minister (half-time), Rev. Alexa Fraser, is in the pulpit two Sundays per month. Most often, our services are conducted in the following chronological format: gathering music, chalice lighting and reading, "Time for All Ages," sorrows and joys, prayer/meditation, reading(s), sermon, and closing words. Our sermons cover diverse topics reflecting the unique contributions of our Ministers, guest speakers and congregational leaders. We often touch on our UU history and tradition, contemporary social issues, other religions, and humanity's foibles, divisions and triumphs. The common themes among the array of worship services are inspiring our personal and communal spiritual growth and enhancing the unique fellowship that derives from our diversity. (Past sermons are available on the UUCS website in the Sermon Archive and via podcast.)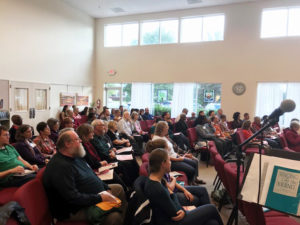 We welcome guest speakers who may be ordained Ministers or proponents of a special cause or members of our own congregation. Our Worship Associates are responsible for organizing services when the Minister is not in the pulpit. They also help establish the philosophy, priorities, and plans for our worship services. Our services are filled with music from our inspired and talented UUCS musicians and singers.
We begin our services by lighting the chalice. We make time to share spoken personal joys and sorrows, and during our offertory, people have an opportunity to light silent candles of hope, memory, and gratitude. A third of the money collected in each week's offering goes to support a community organization (this year we chose to focus on a single organization: Loudoun Backpack Coalition), and two-thirds provides support for the church. (Click here for a recent example of our Order of Service.)
We close every service by joining hands and saying together the following words by Rev. David Bumbaugh.
"This congregation is dedicated to the proposition that behind all our differences and beneath all our diversities, there is a unity that binds us together and makes us one, in spite of time and death and the space between the stars. We pause now in silent witness that that unity.
Following the service, we gather in fellowship to enjoy refreshments, provided by congregants, and talk about the sermon and our faith, and learn more about the interests of fellow congregants. Shortly thereafter, scheduled meetings, including Inquirers or New to UU classes, RE planning and small group ministries, are held throughout the facilities. Our minister leads the Inquirers and New to UU classes and may participate in the other meetings.
Children's Worship
To Come
Faces of UUCS