During the Sunday service, music serves to amplify the particular theme and to create a desired mood to stimulate our thoughts and emotions. Besides reinforcing the day's theme, the hymns and anthems create connectedness among the congregation as they participate in the singing of the hymns. We may sing selections from the hymnbooks, "Singing the Living Tradition", or "Singing the Journey," or use sheet music from other sources. Some services include a few songs before and after the sermon accompanied by the piano.
UUCS Worship services features music from the UUCS Adult Choir and the UUCS Rock Band (jUUStUUS).  Our children's choir performs during special events. We also welcome guest musicians from within and outside the congregation to add to our Sunday services, such as Woven Green (https://www.wovengreenmusic.com/ ), Joshua Long (http://www.jlongmusic.com/ ), and the Fiorilli Jazz Trio.
Choir
The c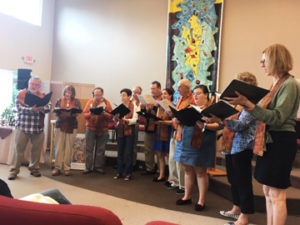 hoir typically sings at one or two services each month, which involves performing one or two songs during the service, as well as leading the hymns.  The performed songs align to the day's theme and are drawn from sacred and secular genres and involve multi-part a cappella or accompanied music. The choir rehearses every Tuesday night and also on Sunday mornings before performances. New voices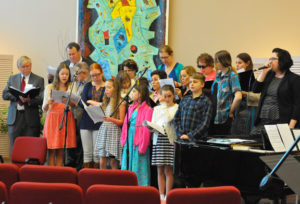 are always welcome.
In September 2017, UUCS hired a new music director, Andrew Kerper who has brought his directing, singing, and piano playing skills and experience to our choir to lead us in rehearsals and in performances. He also brought an infectious energy and optimism to the choir that helped us to attempt some challenging pieces given the small numbers of our choir.  Andrew is supported by lay musician-leaders to provide accompaniment on the piano and song l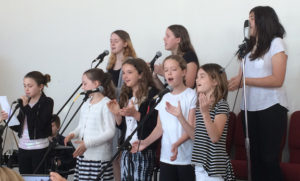 eading during the services.
Besides performing at services, the choir has performed at Broadway Night and Madrigal Dinner events for the congregation. The choir also extended their ministry beyond the walls of the church to include casual singing for some of our home-bound congregation members and for the residents of the Ashby Ponds and the Wingler House senior communities.
jUUStUUs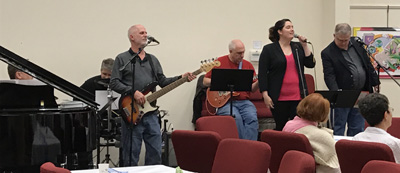 jUUStUUS is our UUCS rock band, whose members love music and believe it enhances our theology. They play about 6-8 times year, providing a fun and thoughtful alternative to the more traditional hymns and choral music we also enjoy. The band generally comprises guitars, bass, keyboards, drums, and vocals. Occasionally, the band is joined by horn players or other artists to augment the group's sound. As with the choir, the band's music aligns with the day's theme and draws from popular and other contemporary genres spanning the past 60 years.
The band has performed in other venues other than Sunday services, such as the Loudoun County Interfaith Music Festival.  Also, we performed for one of the first same-sex marriages in Virginia as two members of our congregation were married.