UUCS is an engaged congregation and have events for participation nearly every week.  Most events are announced through our weekly Illuminate email newsletter or other means. Besides events that occur on a regular basis, we also participate in monthly and yearly recurring events, such as Friday Family Fun Night.  A sample of the more significant events is provided in this section.
Annual UUCS Picnic
The annual picnic is held in June at a nearby park to celebrate the beginning of summer together and to present the "Volunteer of the Year Award."
Backpack Coalition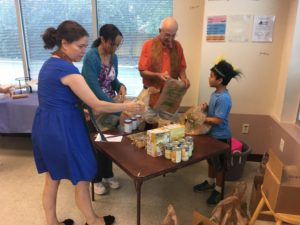 UUCS received a $1000 grant from No Child Goes Hungry. UUCS chose to work with Backpack Coalition  to provide weekend food to Sterling Middle School students who receive free or reduced lunches. Backpack Coalition purchases food through the Blue Ridge Area Food Bank, meaning that monetary donations go much further than individual food donations.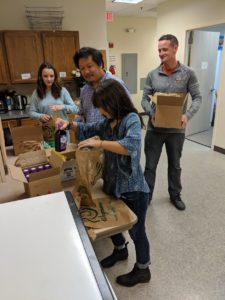 During the 2018-2019 church year, UUCS will focus our efforts on supporting one social justice cause through our split plate: the Loudoun County Public Schools (LCPS) Backpack Coalition, again specifically supporting Sterling Middle School. Many children in Loudoun County experience food insecurity. To make sure they have food over the weekend when they don't have meals at school, the Loudoun Backpack Coalition provides food for these students to take home. Currently, the County's programs are only funded to support 40% of families in need. Through the Backpack Buddies program at area schools, we can help feed hungry students over weekends and school breaks.  Each week we deliver supplies to the school. From September 2017 through May 2018, UUCS funded, packed, and delivered over 200 bags of food for students at Sterling Middle School.
Community Table of Loudoun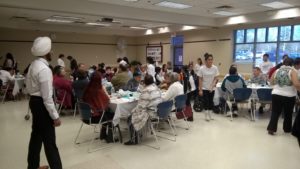 Community Table of Loudoun is an interfaith initiative that offers restaurant-style dinners to people in our community who experience food insecurity. For three years, UUCS partnered with Christ Chapel AME to put together an annual dinner at the Sterling Cascades Senior Center. Our dinners drew between 80-125 guests and over fifty volunteers from the two congregations participated. Our approach to the dinner was to create a warm, friendly, and elegant space where people could experience a night out. In addition to the Italian themed meal (meat and vegetarian lasagnas, garlic bread, salad and desserts) we provided atmospheric live music and decorated the space to feel like an Italian restaurant. Guests were seated by a host or hostess and served by waiters and waitresses. Ours guests included families, seniors, and special needs individuals in Loudoun County.
Gay Men's Chorus Benefit for Equality Virginia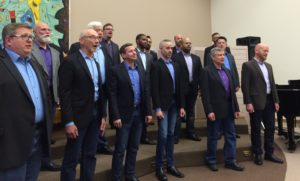 In May 2017, UUCS held our yearly benefit for Equality Virginia  featuring the Rock Creek Singers of the Gay Men's Chorus of Washington. Equality Virginia believes in a truly inclusive Commonwealth where all are equally valued regardless of sexual orientation or gender identity, and a Virginia that is a safe, welcoming, and equal place for lesbian, gay, bisexual, and transgender individuals and their families to live, work, and play.
Led by Artistic Director Thea Kano, The Gay Men's Chorus of Washington DC  is in its 37th season and is one of the oldest LGBT choral organizations in the country.  They sing to inspire equality and inclusion with musical performances and education promoting justice and dignity for all. GMCW has more than 250 singing members, two select vocal ensembles one of which is the Rock Creek Singers which performed for us.
Prior to the concert we held a reception for the singers and guests where we served drinks, including beer and wine, and hors d'oeuvres.  This annual event has been wonderful expression of our commitment to justice and equality, and was a great night of entertainment.  We were treated to the sounds of a world-renowned chorus, providing a diversity of music styles and a night of fun
In addition, we used this opportunity to promote LGBTQ advocacy by distributing postcards to attendees with an open letter to school boards asking them to support nondiscrimination policies that include sexual orientation and gender identity.
We will again host a benefit concert for Equality Virginia in April 2019 after taking a year off due to scheduling issues with the popular chorus.
Help Portrait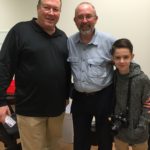 Help Portrait empowers photographers, hairstylists and makeup artists to use their skills, tools and expertise to give back to their local community by finding people in need, taking their picture, printing their picture and then delivering it—free of charge. The event is held annually, the first Saturday in December.  For several years, UUCS has partnered with a local nonprofit organization, INMED Partnership for Children, providing and organizing volunteers and food for the participants.
Hypothermia Shelter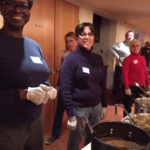 UUCS is one of several religious and community organizations that support Epiphany Episcopal Church of Herndon as it hosts a temporary hypothermia prevention shelter for one week over Christmas. The shelters offers dinner, a warm place to sleep, professional case management services and breakfast the next morning, helping our neighbors experiencing homelessness find respite from the cold winter nights and a path to a home. The shelter is part of a program operated by FACETS (a Fairfax County-based poverty relief organization). The FACETS program, which runs from November to March every year, relies on volunteers and donated facilities and provisions to be successful. To shelter up to 49 guests at Epiphany each night for a week requires volunteers to fill 185 role/time shifts to perform the various jobs of running a shelter.
Jazz Poetry Slam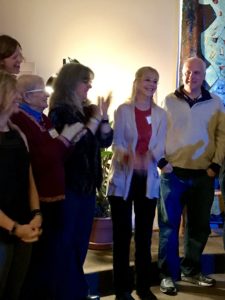 Poetry and song were once the same: The first poems were recited to music played on the lyre. (It's the source of the word "lyric.") Today, poems are published in books and journals, while songs are heard but seldom read. The poet Robert Pinsky tells of a successful songwriter-singer who said, "A little poetry can really help a song, but too much poetry will sink a song."
Surprisingly, we're left with relatively few recordings of poetry sung by jazz artists. Speaking truth and emotion, sonic and rhythmic, structured and free, poetry and jazz seem like natural born partners. More often, we do hear poets read their writing to accompaniment by jazz musicians — a form of spoken-word performance. Others write poetry inspired, informed and shaped by jazz.
UUCS has sponsored 7 Jazz Poetry Slams in our sanctuary in recent years.  The 2017 event, co-hosted by Regie Cabico and Sarah D. Lawson, invited us to hear one another in speech. Regie is one of the country's leading innovators and pioneers of the poetry slam having won 3 top prizes in National Slams & The Kenyon Review called him the Lady Gaga of Poetry. Sarah is the founder and slam master of the Beltway Poetry Slam, DC's premier poetry slam.  Music was provided by George Mason University Jazz students,
During the event Poets were offered 3 minutes to recite their poem over quiet jazz.  Spoken-word artists, muses, rappers, students, student-groups, actors, first time poets, dreamers, activists, etc. are encouraged to bring their truth.  Prizes were awarded for first, second and third place.
UUCS has scheduled another event for the 2018-2019 church year.
LBGTQI Sharing Circle
UUCS sponsors and holds a monthly meeting of The LBGTQI Sharing Circle of Northern Virginia.  This is a support group aimed at bridging the generational gap often found within the LGBTQ+ community. In an inter-generational space, there is an understanding that transcends age to say, "Yeah, I've been there, too." Those moments can lead to a powerful sense of validation and connection. Those moments are the ones that the Sharing Circle aims to foster and facilitate.
Loudoun Interfaith BRIDGES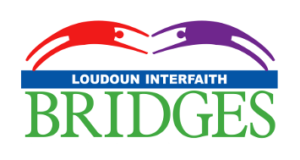 UUCS holds membership as a faith community in Loudoun Interfaith BRIDGES whose purpose is to bring together communities of different faiths to collectively address common challenges, and to build bridges of understanding and respect between diverse religious and ethnic entities. Representatives from our congregation engage in BRIDGES monthly meetings and serve on the BRIDGES board. Participants at our congregation attend BRIDGES events and engage deeply with our interfaith partners in shared learning and celebratory experiences.  Most recently, last year's interim minister, Rev Wayne Arnason participated in a community Voices of Faith series to build understanding and respect between diverse religious and ethnic entities (see Flyer)
Martin Luther King, Jr Annual March and Celebration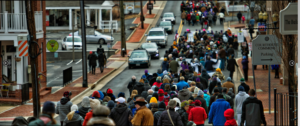 UUCS and the Loudoun Interfaith BRIDGES community support an annual march and celebration at the Loudoun County Courthouse in Leesburg.  In January 2018, Pastor Michelle C. Thomas who serves as pastor of Holy & Whole Life Changing Ministries in Lansdowne, was the keynote speaker for the ceremony following the march from the Loudoun County Courthouse. This year's theme was "Unity, Not Hate."  The MLK ceremony followed on the heels of the annual march from the courthouse lawn to the Douglass Community Center, housed in the building that served as Loudoun's first high school for black students until segregation ended in Loudoun in 1968.
NOVA Pridefest
Each year in October, UUCS participates in The Northern Virginia LGBTQIA Pride Festival, which is a celebration of all of the unique individuals, businesses, and institutions that comprise the Northern Virginia region. The festival is held at the Bull Run Special Events Center in Centerville, VA. We provide an outreach booth to introduce ourselves to the festival participants and provide support to the LGBTQIA community. The event is family-friendly, with field games, picnic tables, a photo booth, karaoke, prizes and games for the whole family; and pet-friendly, with an off-leash dog park for our canine friends.
Ordination of Andrew Mertz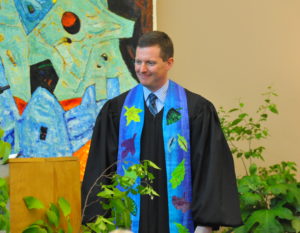 UUCS was honored by our past intern, Andrew Mertz, to host his ministerial ordination in May 2016.  In this event, UUCS welcomed ministers from our region and beyond, and our congregation in this momentous occasion.  During the service, the UUCS band, jUUStUUs, and the adult and children choir jointly performed Queen's "Somebody to Love" and Michael Jackson's "Heal the World."  Following the ordination, we held a reception for all of the guests.
Refugee Resettlement Project
In September of 2016, with the strong support of the Minister and the Board of Trustees, the UUCS joined with the UU Congregation of Fairfax to co-sponsor a refugee family from the Middle East.
A family from Afghanistan consisting of a widowed mother and two children (ages 9 and 13) were assigned to our care by the Lutheran Social Services – a refugee resettlement agency.
The joint Refugee resettlement teams quickly realized that supporting a single parent family would require more commitment than we had initially expected. The mother is a widow from Afghanistan whose husband was killed by the Taliban. The family sought refugee status here after the Taliban threatened her 10-year-old son. They waited in Pakistan for 3 years before moving to the US.
From the outset it was clear that the mother's concern for her children was her highest priority. It took some months before she began to feel safe in her new life and trust the UUCF and UUCS volunteers working with her. Project volunteers helped her and the children settle into an apartment in Reston. Welcoming the family, donations of household items, furniture, and clothing were collected by both congregations.  But that was only the beginning
Both the UUSC and UUCF Boards authorized funds to be contributed towards expenses such as rent, utilities, etc.  Members of both congregations assisted with transportation, enrollment of children in school, instruction in English, assistance with applications for government financial assistance programs, etc.
Reaching out to a wide variety of county support services, medical services, ethnic food shopping, monitoring Children's progress in schools, use of local transportation, teaching her how to manage her own budget, use of internet services, and a job search which matched her children's school schedule were all organized. And finally the team helped the family apply for their Green Cards.
The mother and the children have made tremendous progress during the past two years, settling into their apartment in Reston and gaining a sense of independence.  Her English has improved and the children are doing well in school. After one year working for a licensed homecare provider, she is now employed full time at a Day Care Center with full benefits.  Her son, now 15, is also employed for a few hours at an Indian restaurant. The family has received approval of their Green Cards.
Even with these accomplishments, the family has a long way in becoming self-sufficient and independent. But the joint team members feel a great sense of satisfaction and feel very optimistic that the family will be a real contributing member of the American fabric.
Response to Violence and Hate
Unitarian Universalist principles encourage us to confront injustice where ever we find it.  It is not surprising therefore the UUA General Assembly has adopted the 2015 Action of Immediate Witness in support of the Black Lives Matter movement.  Our congregation takes this calling seriously.  We have established the Showing Up for Racial Justice (SURJ) pages with the hope that information and actionable events will be readily available to the community.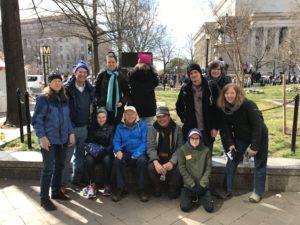 Our most focused public witness was in response to the call to join the March 24, 2018 March for Our Lives, a witness against gun violence, in Washington DC and around the country.  UUCS joined other UU congregation from the national capital region to take part in this important event.
We have attended and hosted a number of vigils over recent years in response to hate and violence, including support for Black Lives Matter and other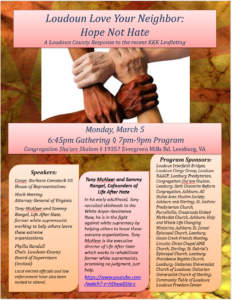 anti-racism movements and the LGBTQ community in the wake of the Orlando Pulse nightclub shooting.  In March, UUCS joined other people from many faith backgrounds to gather for a prayer service and candlelight vigil in response to the latest rash of Ku Klux Klan recruitment fliers found in Loudoun driveways. Before walking to the Loudoun County Courthouse with candles, the crowd packed the Leesburg Presbyterian Church to hear from several community and faith leaders.  Recently, the KKK distributed recruiting leaflets in Sterling and we supported the community reaction to this action with a candlelight vigil at the Leesburg courthouse. We also attended a vigil in Leesburg when local Muslims had been threatened and harmed. Many members and our interim Minister attended a vigil for the shootings at the Tree of Life Congregation. The vigil was held at an Interfaith BRIDGES congregation with which our congregation has been in community.
Sterlingfest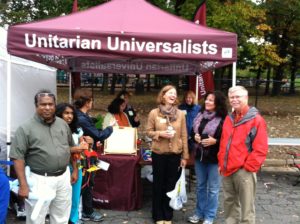 UUCS has participated in the annual Sterlingfest held in October.  This community event provides fun for the whole family with over 50 vendors, crafters, businesses, and non-profit displays, as well as entertainment, kids' rides, and great food.  UUCS staffs a booth that provided games for the children and opportunities for discussion with adults about UU and UUCS.
Veterans Day Breakfast
Each Veterans Day, UUCS hosts a breakfast for our veterans, service members, family members, and supporters.  We will share fellowship, enjoy a full breakfast, and hear from our veterans while we honor those who sacrificed for the common good.  This year's speakers are Larry Whitley and his wife Leann. Larry and Leann are both retired Sergeant Majors. Larry is now the "Chief, Command Information, Public Affairs Office" at Ft Meade, and Leann leads her own company.