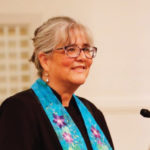 Welcome to the Unitarian Universalist Congregation of Sterling. It is an honor to serve this warm and vibrant congregation.  I am beginning this year as the new settled minister and am looking forward to getting to know the congregation and I invite you to join us on this journey.  Creating connections and building community across boundaries of difference are the cornerstone of the Unitarian Universalist religious tradition.  I invite you to bring your curiosity and your questions, your hopes and your fears.  We engage the complexity of our diversity, allowing each person to live into their own spiritual path because we know it is the wealth of our individual experiences that brings richness and wholeness to the entire community.
We come together on Sunday mornings to participate in worship that enables us to think about the deeper questions of what it means to live in this time and this place.  We aspire to create a space that is welcoming and inclusive for all where many voices, theologies and worldviews invite us to wrestle with what we believe.  We share personal Joys and Sorrows that allow us to bond more deeply as a community. We give our energy and our deep commitment to both our congregational community and the larger community beyond our walls.  We give our children and youth the benefit of our Lifespan Faith Development programs that allow them to explore meaning in their lives in an age appropriate way that encourages growth.  We believe in ourselves and our call to bring our unique voice to Loudoun County, VA. Our liberal religious tradition and denominational network represents a unique voice in our increasingly diverse and multicultural world. We know we can make a difference. We would love for you to join us!
If you would like to learn more about our congregation, I welcome you to visit us for Sunday morning worship. Our services is at 10:00 AM. We are located at 22135 Davis Drive, Suite 105, in Sterling, Virginia. We will be glad to speak to you about our congregation and your interests after services. We hold an Inquirer's class (a way to learn a bit about Unitarian Universalism and our congregation) the first Sunday of every month at 11:15 A.M., after our service.
If you are ready to learn more about Unitarian Universalism now, you may wish to browse the Unitarian Universalist Association page at www.uua.org, or you are welcome to reach out to me through the e-mail below and suggest a good time when I can call you to talk on the phone.
I look forward to meeting you, and I wish you well on your search for a religious home.
Rev. Aileen Fitzke
Minister, Unitarian Universalist Congregation of Sterling
minister@uusterling.org