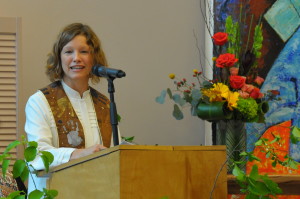 Welcome to the Unitarian Universalist Congregation of Sterling. It is an honor to greet you, as it is an honor to serve this warm and vibrant congregation.
The members and friends of our community come together on Sundays and throughout the week hoping that together we will build something worthy of our energy and befitting our dreams. We work toward a respectful embrace of diversity. We create a worshipful environment that helps us access truth, beauty, comfort and support. We sustain a community that responds ethically to the needs of our world. We support a lifespan faith education program that encourages critical thinking, provides exciting curricula and establishes lasting mentorship roles. We believe in ourselves and our call to bring our unique voice to Loudoun County, VA. With our ministry we honor the awesome role that our liberal religious denomination plays in our increasingly diverse and multicultural world. We know we can make a difference. We do so each and every day.
If you would like to learn more about our congregation, I welcome you to visit us for Sunday morning worship. Our services are at 9:30 a.m. and 11:15 a.m. We are located at 22135 Davis Drive, Suite 105, in Sterling, Virginia. We will be glad to speak to you about our congregation and your interests after services. We hold an Inquirer's class (a way to learn a bit about Unitarian Universalism and our congregation) the first Sunday of every month.
If you are ready to learn more about Unitarian Universalism now, you may wish to browse the Unitarian Universalist Association page at www.uua.org, or you are welcome to call at the number below.
I look forward to meeting you, and I wish you well on your search for a religious home.
Rev. Anya Sammler-Michael
Minister, Unitarian Universalist Congregation of Sterling
(703) 406-3068
minister@uusterling.org