Our congregation draws from all over Northern Virginia, including Sterling, Ashburn, Leesburg, and points west, as well as Herndon, Reston, Great Falls, South Riding, Aldie, Chantilly, Clifton, Manassas, and Fairfax.
Sunday Mornings: We gather for worship every Sunday at 10 AM. Future service themes and times are listed in the "Upcoming Services" section of our home page.
What To Expect When You Visit:  First, and most importantly, YOU ARE WELCOME!
What to Wear: Wear what makes you comfortable. You will see some members of our congregation dressed casually and others in business or fancy attire.
Parking: We reserve several spots directly in front of the building for visitors. If those spots are taken, you may park anywhere around the building.
Arriving:  When you enter, expect to be greeted by a volunteer, who will offer you a name tag and invite you to fill out a visitor form. Both are optional, of course. As you enter the Sanctuary, you will be given an order of service, which lists what will be happening in the service. It's fine if you wish to chat with the greeters and ushers, or to slip by quietly to find a seat. We have open seating; find a place that feels comfortable.
Children: We love children and they are always welcome. We offer Children's Religious Education for children over 5 and childcare for those under 4. Children typically participate in the worship service for the first 15 minutes and then are invited to come forward during "A Time For All Ages." They then proceed to RE or can stay with you for the duration of the service.
Accessibility: We provide space for wheelchairs, canes, and walkers; also assistive listening devices and large print Orders of Service.
Fellowship: We have fellowship after each service.  Drinks and snacks are provided and guests and visitors are always welcome. This is a good opportunity for visitors to meet new people and learn more about UUism.
Inquirers' Conversation: Should you wish to learn more, ask questions and get to know a few others, including one of our ministers, stay after the first Sunday Service of the Month.  The Inquirers' Conversation begins at approximately 11:15 in the minister's office.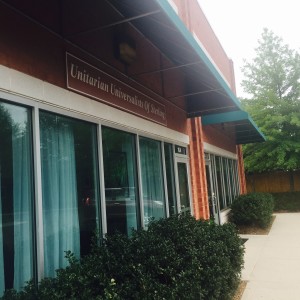 Finding Us: Don't let our modest facade fool you; inside our facility, you'll find a welcoming community full of love and life. We are located in the Sterling Oaks Commerce Center near the intersection of Route 28/Sully Road and W. Church Road:
22135 Davis Drive
Suite 104
Sterling, VA 20164