There are many ways to support UUCS. From our annual stewardship drive to endowments, there are options for all levels of giving.
2016-2017 Stewardship Campaign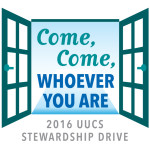 Our annual stewardship campaign, Come, Come, Whoever You Are, kicks off February 28, 2016. Find out more here.
Contact stewardship@uusterling.org with questions or to make a pledge.
Payment Information
UUCS accepts credit card payments for the following kinds of donations: